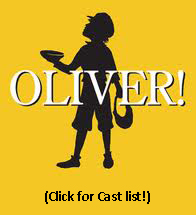 After running away from the orphanage run by the heartless Mr. Bumble, Oliver meets the Artful Dodger and is recruited to pick pockets for Fagin. There, Oliver finds a friend in Nancy, but neither she nor the boy are fit for a life of crime.
Adapted from "Oliver Twist" by Charles Dickens.
Make your plans now
for a great day in the park!
(Click for Cast and Crew List)
Evening Performances
July 21, 22, 23, 28, 29, 30 @ 7:00 pm
Sunday Matinees
July 24, 31 @ 1:00 pm
Ticket Prices
Adults: $8 advance, $9 at the door
Seniors: $7
Children: $4 advance, $5 at the door
Location
Town Square Park, Prescott
125 Elm Street North
Prescott, WI 54021
(click for Map)
For more info or questions, please email us at Info@GreatRiverRoadTheatre.org