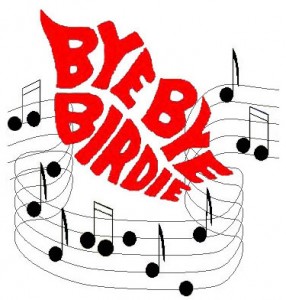 Bye Bye Birdie"
Music by Charles Strouse
Book by Michael Stewart
Lyrics by Lee Adams
It's the late 1950s and teenagers from across the United States are going crazy for the handsome rock star, Conrad Birdie. Meanwhile, his manager, Albert Peterson, is going into debt and has staked his financial future on Conrad's success. Albert's secretary, Rosie, is increasingly frustrated with the time and money Albert is losing on his project. Disaster strikes when Conrad receives a draft notice to join the military. Thus, Albert attempts to stage a farewell party for Conrad in which he is to kiss one lucky fan on the Ed Sullivan Show before he leaves for the army. Kim MacAfee, from Sweet Apple, Ohio, is the lucky girl chosen to be kissed. But conflict arises when her boyfriend, Hugo Peabody, gets jealous, and Rosie becomes fed-up with the abusive treatment she receives from Albert's mother.